How to Use 7-Data Card Recovery to Recover Data from SD/Memory Card
This will be a four-step tutorial which shows how to restore photo, video, audio, files from your SD and memory card. Before recovery, please make sure you connected your card to the PC on which you installed 7-Data Card Recovery.
Get 20% Off When Ordering Today.
We will recover your file or we will refund your money.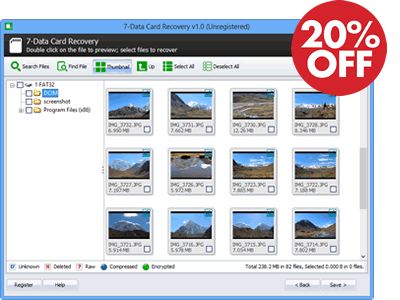 Price:
$49.95
was $69.95
Delivery:
Instant electronic delivery to email address
Services:
Free software upgrades, free technical service by email
License:
3 PC, lifetime, non-commercial
1 Year
Home
PRO
Enterprise
Money Back Guarantee: 30 Days
Buy Now 20% Off

*We will recover your file or we will refund your money.
License Type

1 Year

Home

Pro

Enterprise

Recover data from local hard drives and external storage devices

Recover unlimited amount of data

Recover data on Windows Server 2008/2003

Use in a business or commercial entity

Use for all computers in one company; Use for a third party; Use as technical service

Free software upgrade service

Free technical support on demand

Number of supported PCs

1
3
3
Unlimited

License Period

1 Year
Lifetime
Lifetime
Lifetime
PRICE
$39.95
was $49.95
$49.95
was $69.95
$79.95
was $99.95
$399.95
was $499.95

30-Day Money Back Guarantee

Buy Now
Buy Now
Buy Now
Buy Now
*Volume discount also applies for quantity of 10+, 30+, 50+
30-Day Money Back Guarantee

We are confident to provide best quality software products that will bring you value more than you paid for it. If however you are not satisfied for any reason, just contact us within 30 days of purchase and we will refund to you the full value of the purchase. No questions asked.
Secure Online Payment

Our online payment is processed with
Avangate Service
. Avangate Services are PCI DSS Level 1 Certified (Payment Card Industry Data Security Standard).The product could be purchased through Credit Card, PayPal, Bank/Wire Transfer, Check/Money order, Fax, etc.
More than 50,000 Happy Customers
"I am very impressed with the software for ease of use and clarity of guidance, I previewed several alternatives but they fell short of this software. It certainly saved the day and I am delighted. I have up graded for unlimited recovery at a cost of only £20 for a year." - Ann Lawrence, Scunthorpe, UK
"It is a small investment for your personal information to be there on your hard drive when you need to retrieve it. I cannot afford not to have 7-Data Recovery Suite on my computer. It's a small price to pay for peace of mind. It is like having fire, theft and flood insurance on your home, but on your computer hard drive." -Jay Douglass, Seattle, USA
"This is top quality software that pays for itself the first time you use it. I also love the fact that upgrades are free. I cannot thank you enough and would highly recommend you to anyone who loses important stuff from their computer." – Raymond Cowie, Loughborough, UK
"I think that's an excellent price for one year of knowing I never have to feel that scared again. To cut a long story short, you have saved me a lot of money and returned some irreplaceable data to me, and I am extremely grateful. " -Stephanie Fairey, Adelaide, Australia
"The free version convinced me to buy it, since it flawlessly recovered a portion (1gb limit on free version) of my deleted files. After purchasing it I was able to salvage the rest of my data. The price is affordable, and the extent of the tools within the suite and their usability, exceeded my expectations." -George Papas, New Jersey, USA
"I decided on the year purchase price of $39.95 so I could recover UNLIMITED data for a year if necessary. It's about the price of dinner for two in my small town. I am a happy camper with a big sound of RELIEF. 7 data recovery saved me from a huge bill and from a sleepless night! Awesome. " -Jasmine Reeves, Belleville, IL, USA