Recover Photos, Videos, and Files from Your Android Phone/Tablet and SD Card in It
Specially designed for Android system used by mobile phones and tablets/pads and SD card in Android devices, 7-Data Android Recovery effectively recovers photos, pictures, video, audio, documents, emails and other files from various Android devices on your Windows PC.
Recover photos, pictures, videos, audios, and music files
Recover other files like Word document, email, archives
Do-it-Yourself Android recovery without privacy risks
*Guaranteed Result, Easy-to-Use, Free Trial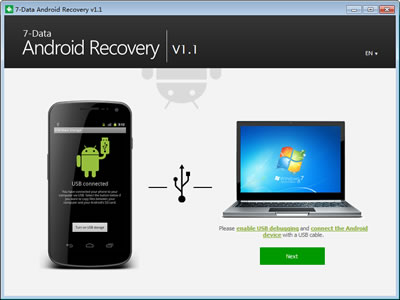 Recover Files from Android Devices in Four Simple Steps
Connect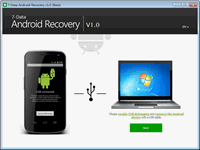 Scan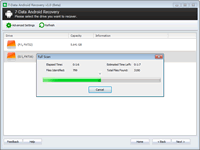 Preview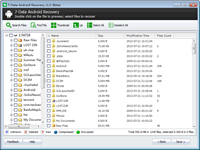 Recover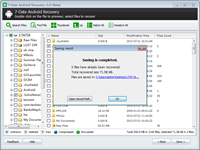 Recover Photos and Pictures from Android
Photo intentionally deleted or lost due to formatting the SD card can be easily recovered with 7-Data Android Recovery. It helps recover you pictures in various formats including: JPG, JPEG, GIF, PNG, TIFF, PSD etc.

Recover Video and Audio File from Android
Videos of your precious memories or music/songs collected for a long time can be a huge loss. 7-Data Android Recovery supports recovering video and audio files in formats including: MP3, MP4, AVI, MPEG, 3GP, WAV, WMA, etc.
Recover More than Photos and Videos
Besides multimedia files like photos and videos, 7-Data Android Recovery is capable of recovering all other files in various formats including Word documents, archives, emails, database, apps, etc.
Recover from External SD Card in Android
Normally there will be two memories for an Android device. One is the internal memory of Android device; the other is an external SD card. 7-Data Android Recovery supports recovering files from the both memories.

DIY Android Recovery without Privacy Risk
7-Data Recovery is designed as a Do-It-Yourself and Step-by-Step software so that you can recover your personal data like intimate photos, emails, personal financials on your own, no risk of giving your privacy away.

Support a Wide Range of Android Devices
Designed compatitable with different versions of Android OS, 7-Data Android Recovery supports recovering data from Android phones/tablets from a wide range of Android device manufacturers like: Google, HTC, Samsung, Motorola and others.


"I work in the IT industry and this powerful piece of software is unlike anything I've ever seen." –
George Papas, New Jersey, USA

"I am very impressed with the software for ease of use and clarity of guidance, It certainly saved the day and I am delighted."
–
Ann Lawrence, Scunthorpe, UK

"I cannot thank you enough and would highly recommend you to anyone who loses important stuff from their computer."
–
Raymond Cowie, Loughborough, UK

"I cannot afford not to have it on my computer. It's like having fire, theft and flood insurance on your home, but on your hard drive."
–
Jay Douglass, Seattle, USA

"You have saved me a lot of money and returned some irreplaceable data to me, and I am extremely grateful."
–
Stephanie Fairey, Adelaide, Australia

"I am a happy camper with a big sound of RELIEF.7 data recovery saved me from a huge bill and from a sleepless night! Awesome."
–
Jasmine Reeves, Belleville, IL, USA